Ok, so yesterday I talked a little about my wedding.
Lemme tell you something else about that wedding… I DIY'd the eff outta it.
Before we even started planning the wedding, Matt and I agreed that we'd rather serve hot dogs and be able to invite more people than have some fancy meal for less friends.
Matt and I both love our friends like they're family and it was important to us to not leave anyone out.
But we also didn't have an endless budget to blow on one party.
So we got scrappy.
And we did end up serving hot dogs, but you already knew that.
I also made my bouquet out of old comic books. Matt's dad collected comic books so it seemed like the perfect way to have him at the ceremony in spirit.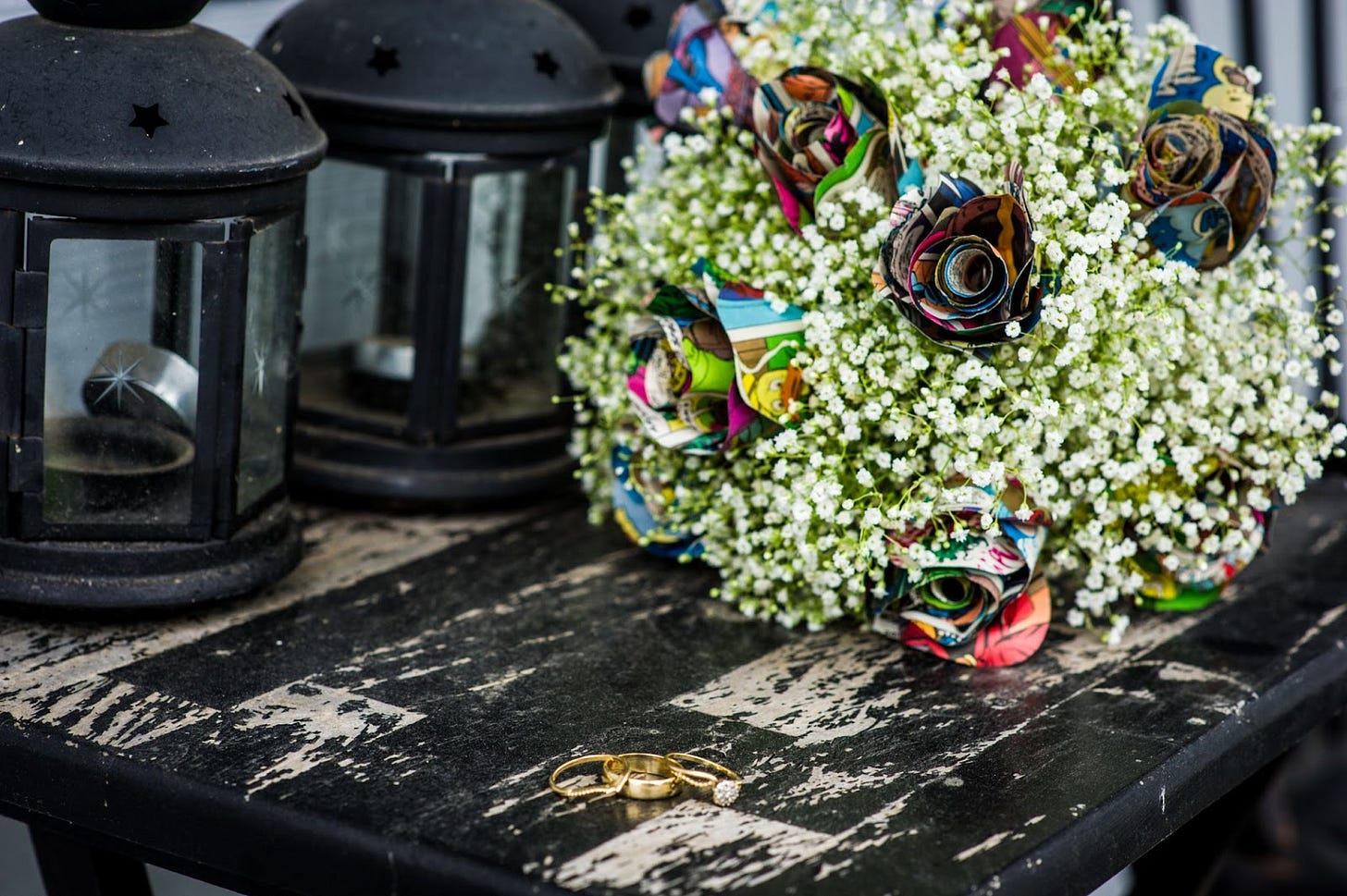 But really when you DIY something, you never really "do it yourself" right? You usually need support.
I know I did. We called on our amazing community of family and friends to help us pull it off…
My high school students helped make tissue paper flowers for the tables
My old roommate Kris was the videographer for 150 bucks plus beer and hot dogs
Our friend Tess (who has the byline for that pic of me and KC and our Big Gulps) offered up her beautiful historic home for portraits before the ceremony
Krystal (who I have a matching $22 friend tattoo with) left the set of Mozart In The Jungle and flew down from New York to do my makeup which is how I ended up with Bernadette Peter's eyelashes
Matt's buddy Jake took a break from photographing punk rock shows to photograph our wedding
It's an amazing feeling to know that you don't have to do it all yourself. To know you have a community around you that really cares about you and wants you to succeed.
It's like they say…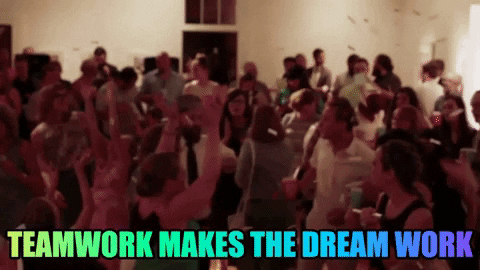 Do people really say that? Actually, if you just joined and read my welcome email I used this GIF in that, so maybe I'm the people who say it. And it's called repurposing… look it up. JKJK.
Anyhoo… when it comes to your business, do you have supportive people you feel you can reach out to when you need it?
The thing about me is that I love helping people. And I love thinking of scrappy ways to get stuff done.
I want to be available to you when you're troubleshooting something in your business and offer up a quick, easy, scrappy solution.
When I say "quick and easy" I don't mean it in a bad podcast title kind of way.
I mean it in a "What's the easiest way we can get something set up so that you can start making money kind of way."
When you really get down to it, running a business is literally just:
👉 I have this thing… Do you wanna buy it?
The "Online Marketing World" overcomplicates it to sell you stuff you don't need. At least not when you're just getting started.
It's so freeing to toss out the rule book and just sell your shit.
If that sounds good to you, you're what the people call my perfect-fit client. (Maybe the same people that say that thing about teamwork and dreams working.)
And can we just change DIY to DIWF? (do it with friends)
xo
dd
PS… If you have any questions about how I can support you, please feel free to hit me up and ask away! I'm here for ya.