"And here's the stairs where I want to get a photo of everyone who comes." (I said it with a grand gesture because the photo I was picturing in my mind was going to be epic.)
Matt's mom was like, "EVERYONE who comes to the wedding? Not just the wedding party?"
Me: Yup. 😬
Her: I don't know if that's even possible. Everyone's going to just head straight to their cars.
Me: I mean… we'll just ask them to come over here for a quick photo. 🤷‍♀️
Her: I just think it'll be hot and they'll want to head to the reception.
Me: Well, I just want to try it. 🤨
Her: It might take a long time to get that many people organized.
Me: Well, the only thing we can do is try it and see what happens… 😤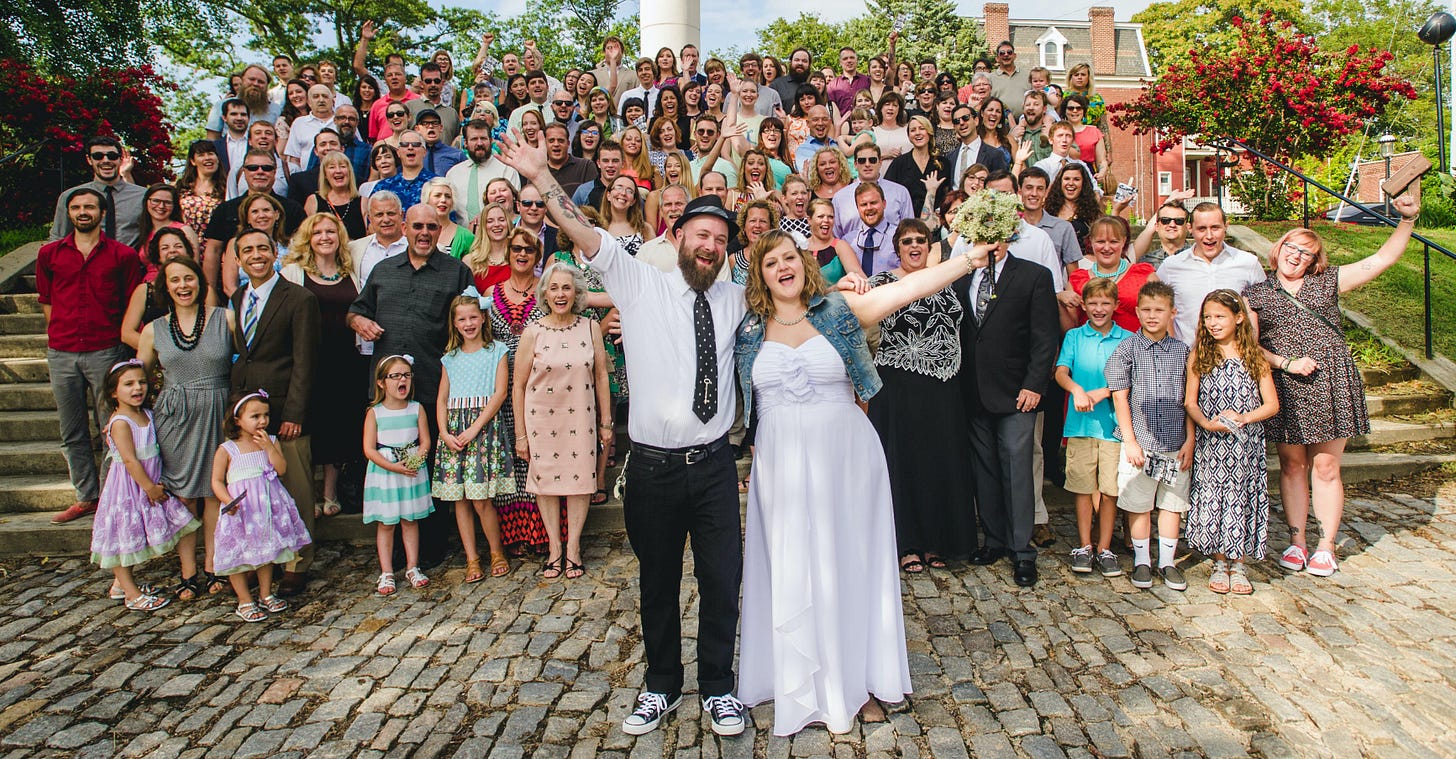 BOOYAKASHA! 💥 Nailed it!
That's all you can do… just try and see what happens.
I'm so glad I stuck to my guns and tried.
It's one of my favorite photos EVER to exist in this world.
It's literally a photo of everyone I love… and I could have accidentally been convinced to NOT even try for it. Can you imagine a world where that photo doesn't exist?
Me either.
Here's the thing: You have a vision for your business.
Don't let anyone tell you that it's not gonna work.
I mean, the truth is, it might NOT work, but I'm a strong believer that you have to test it to find that out.
And just because something worked for one person doesn't mean it's gonna work for you.
We can't all just buy a $300 craigslist camera and become a multi-millionaire with a lake house in Minnesota and a condo in Hawaii. No matter how big of a goal-digger we are. 😎 That's what the kids call a "read."
I wanna help you get inspired, get creative, and stay the course of growing your business!
Try something new.
Tweak it.
Try again.
Ask for feedback.
Try again.
That's how you build a sustainable business that makes you money.
If you're caught in the course buying, PDF downloading, summit attending cycle you're probably feeling really overwhelmed and confused. 😅
Everyone is saying something different. Because everyone's journey is different.
YOU have to figure out YOUR own journey.
But that's so much easier when you have support.
That's my bread and butter. (That's what my friend Natalie and I would call our Karaoke go-to songs… aka, it's the thing I'm good at.) Supporting you in growing the business of your dreams.
There's no secret sauce. It just takes time and trial and error.
And I want you to have the support you need to make it happen.
If you think you're ready to ditch the distractions and start growing your business, let's do the damn thing!​
xo
dd
PS… I can't believe I only had one photo in this email! So here's a pic of Joey's Hot Dog Truck (aka the "caterer") at our wedding.🤣 🌭 ❤️