When we bought our house in 2019 it had a hot tub. It wasn't on the list of things we were looking for, but it found us. It was fate. 😍
But then in the fall of 2020 it stopped working. 😭
After years of battling the home warranty company, and accidentally sending the repairman a text I thought I was sending Matt talking shIt about him, and getting a new repairman to tell us it wasn't worth saving, we've come to terms with the fact that we're now people who used to own a hot tub.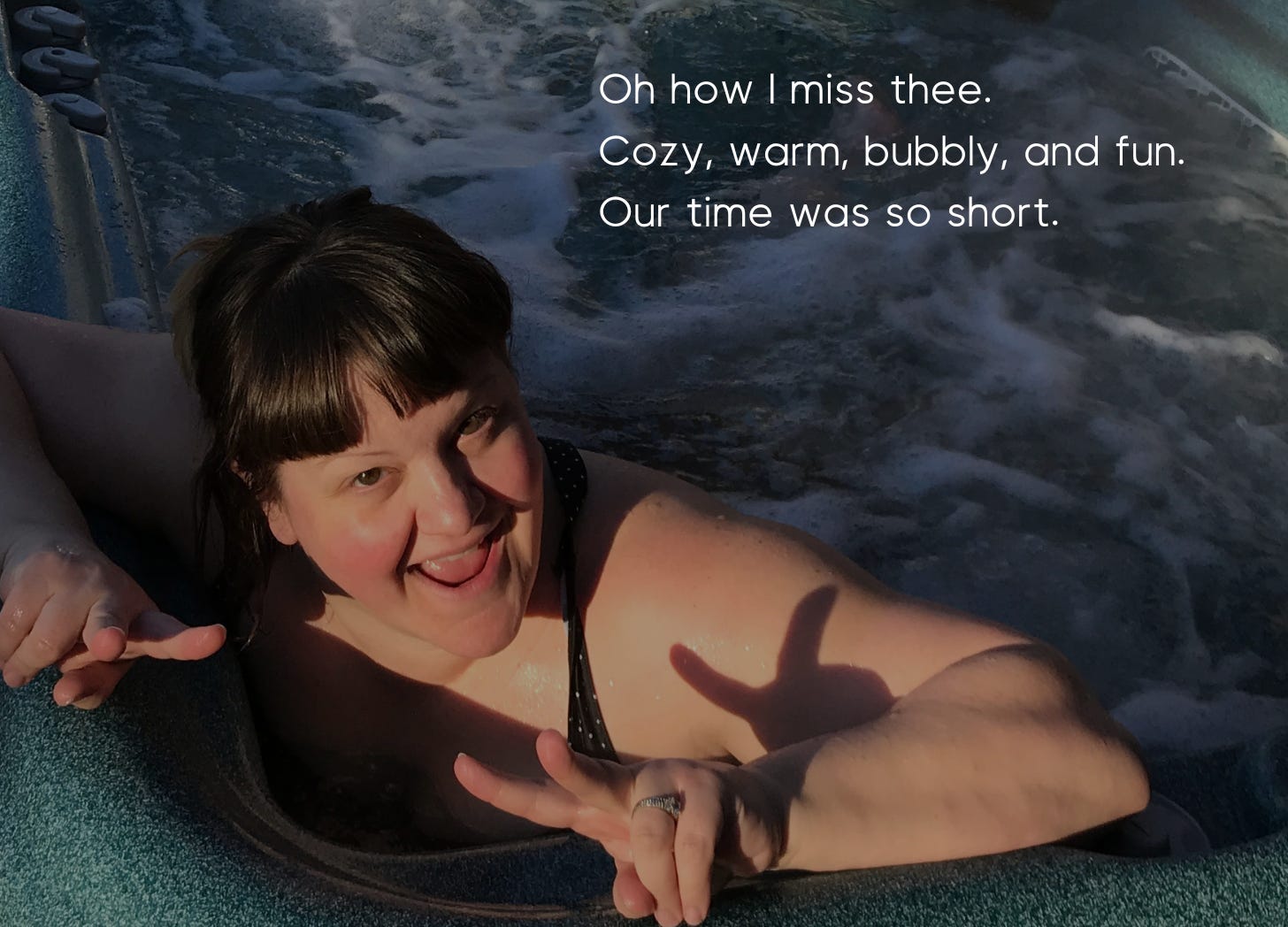 Look how happy I was. Living my best life in the hot tub I never knew I needed until I had it.
Last week at a goal-setting workshop with my mentor Maggie Patterson she asked us how we would celebrate if we met our goals. 
My first response was to go to Bravocon, duh. And then I quickly added, "Oh, and buy a hot tub!"
Usually when it comes to setting goals, looking at data, and making plans I'm literally THE WORST.
Analytics can feel like when I used to own a scale and weigh myself regularly.
If the data is good, I equate that to me being good. And if the data sucks, then so do I. 😔
So here's what I'm doing for my goals in 2023… I'm focusing on what I want to do, and not so much what those actions will create.
If I show up in a way that feels fun for me, I'll keep showing up. (The people call that consistency. 🤣) 
And if I keep showing up in a way that shows off my own little weirdo magical self and the beautiful designs I'm making for my clients… the odds of me growing my business goes up.
(The people call that data. 🤣)
I'm just saying, if you keep seeing people talking about their goals for the new year, I want to give you permission to just focus on your process over the outcomes. 
But it's also fun to think about how you'll celebrate when you reach those outcomes. Hot Tub Time Baby! 🎊
xo
dd