I've always wanted to be in a band.
Maybe it's from my days as a kid watching Kids Incorporated and Star Search. But dang… it just seemed so cool.
I actually tried to be in two different bands with my best friend KC. (Remember him from yesterday?)
The first one was called The Mall. We mostly drank beer and didn't get very far in the writing process.
Then there was the Christmas Cover Band he and I tried to start called Peppermint Twist. We actually found two other willing members and had one practice… but then it fizzled.
My husband Matt's been in a band since I've known him.
It's called Pedals on Our Pirate Ships.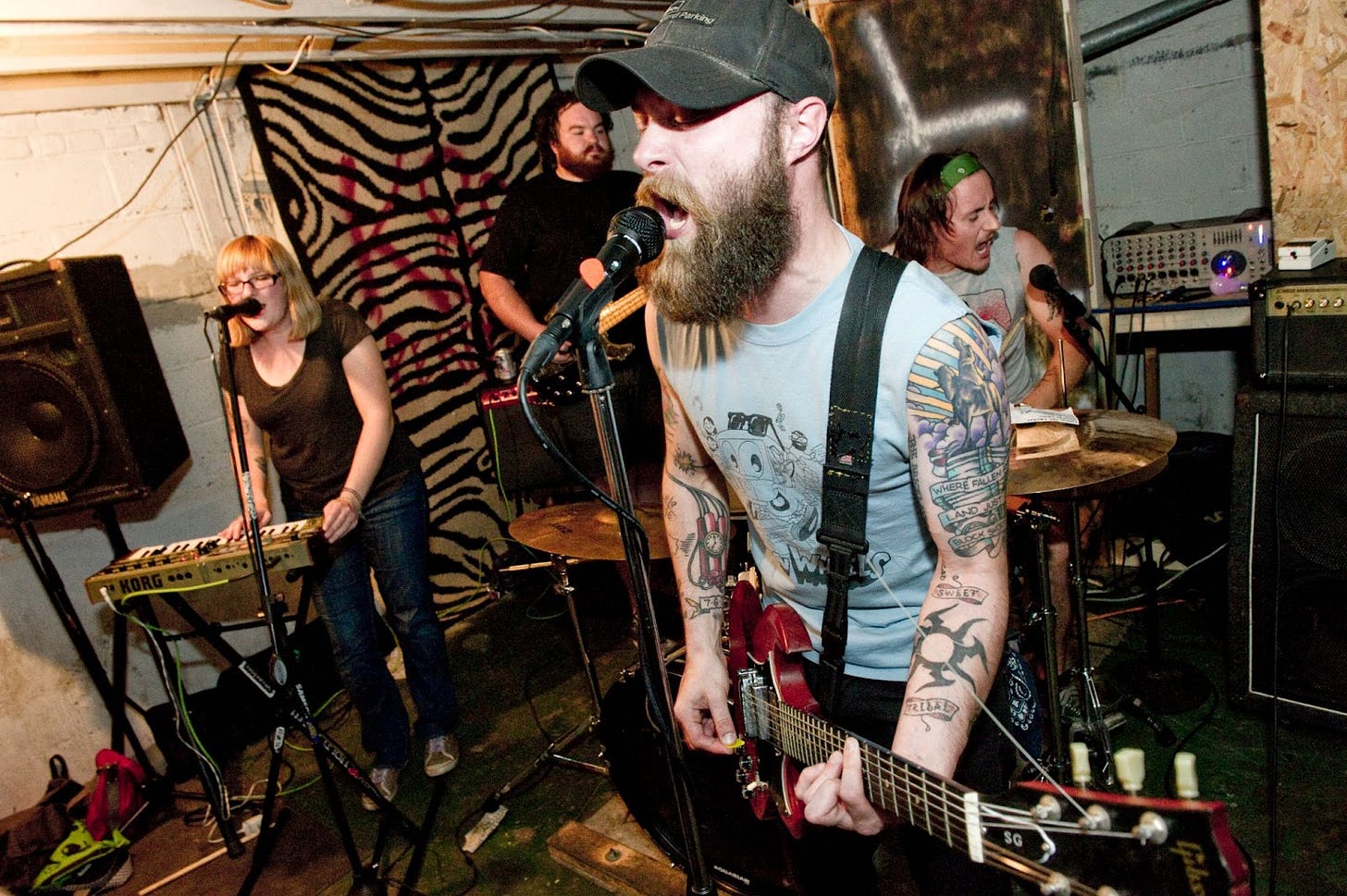 They've gone through lots of different lineups throughout the years, but when I had a super big crush on Matt and they needed a place to practice, I offered up my basement.
Sneaky way to lure him in, right?!? 😬
That's the band up there.
🎹 Adrienne – keyboard and vocals
🥁 Louis – drums and vocals
🎸 Richard – bass
🎤 Matt – vocals and guitar
Hanging out with them, I realized I didn't really want to do the work to be in a band, I just wanted the camaraderie.
But there's something special about committing to a goal together.
I mean, me and my friends would go to karaoke together, but it's not the same sort of bond as being in a band.
I have an email coming up about me and Matt's wedding.
🚐 Adrienne – van rental + park setup
💍 Louis – officiate the ceremony
🍺 Richard – chairs and keg delivery
🙋‍♂️ Matt – show up + say "I do"
Friends.
They're the best, right?
I'll admit that it's hard to make time to hang sometimes.
Now there's kids and adult responsibilities, and just all the day-to-day bullshit. (ahhh… remember when we would just go to the lake and chill…those days are gone.)
I think that happens in business too. Especially when you're a solopreneur and doing it all on your own.
We're too busy researching hashtags and trying to tweak a template in Canva.
But lemme tell you, there's power in people.
Asking for help will make the difference in your business.
I'm not even talking about hiring people like me, I'm talking about:
The people who comment on your posts.
The people who recommend you to someone. (not because they're an affiliate, but because they know how awesome you are and they can't wait to tell someone else)
The people who you can Voxer when your launch doesn't go the way you thought it would
People who know what you're talking about when you say words like, "ICA, Funnel, Opt-In, CTA"
Those are the people you​ need on your side as you build your business. Because it's not as easy as the celebrity entrepreneurs make it sound.
So, whattya think? Wanna be in my band?
And by band, I mean have me in your back pocket every month helping you come up with and create killer content.
Oooh… maybe we could have a virtual karaoke night?!? JK! Maaaaaybe? 🤣
Just think about it…😜
​
xo
dd